That's right - another meme. Some love 'em - some hate 'em. I don't mind 'em. Now is your chance to click on thru if you are not interested in the least, lol. Otherwise - read on :)
I was given the following 'rules':
1. Create a blog post with a link to the person who so happily tagged you.

2. List all of these rules in the post. Feel free to cut and paste this.

3. Share seven things that others may not know about you. Do I or have I HAD a life outside of real estate?

4. Identify seven friends, contacts or near enemies in which to adorn this MEME. Tag them at the end of the post and give a link to their blog.

5. Contact each of the tagged members and let them know that you were indeed fast enough to catch them and that you did indeed tag them...no matter how much they say you missed them! No schoolyard rules in this MEME, nope you gotta do it if you are tagged. Sorry guys!
Here goes:
1. Tagged by my buddy Valerie Osterhoudt - who is presently freezing up in Connecticut.
2. Rules have been listed (see above)
3. Now here is the hard part ---- This is really really hard - because I am like an open book and it seems that everyone knows everything about me, but I'll try.
So the 7 things you (maybe) don't know about me are as follows:
I used to take riding lessons (horse)...had some bad experiences and gave it up for now. I'm waiting for Karen to move her butt down here! She says she is gonna get me back in the saddle, lol. (at least one time!)
I would like to learn how to speak Italian (so when my prince comes to take me away to that Italian villa - I will be ready!!) - anyway - so I bought "Learn How To Speak Italian - For Dummies" hahaha.
I am a member of Weight Watchers ----- and if you work the plan, it really does work. I have learned over the years that 'diets' just don't work. You lose weight - go 'off' the diet, back to your old eating habits and guess what? You will usually gain back the weight you lost...and more! ugh. So, for me - Weight Watchers is wonderful. It is a way of life. Part of a healthy lifestyle. I love it!

I crochet! My grandmother taught me and a bunch of my cousins when we were young. I'm not sure about the others, but I still do it :) I'll never forget - we all sat in a line - Grandma in the middle and she showed us and we followed. My cousin Krista was the only left-hander in the bunch so - being a smart cookie - Grandma had her sit across from her so she could learn 'opposite' from us, lol.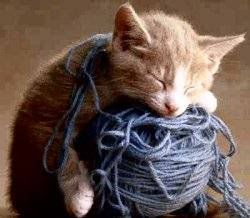 To do my part to help the environment (as well as my waistline) I walk to the office!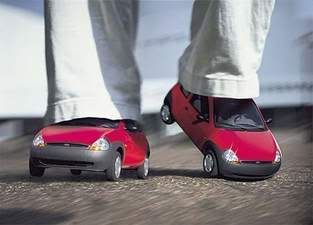 I have 30+ nieces/nephews. I love being 'Aunt Kara'. I helped my niece Dawn celebrate her 28th birthday over the weekend. OMG! It was a blast!!! :) I haven't had that much fun with one of my nieces since Vegas, lol. For those of you who follow my blog - Dawn is the mom to the future pro-bowlers!
Speaking of Vegas.... - that is the farthest West I have ever been. And dont' you know it - both flights (there and back) I was on the wrong side of the plane to see The Grand Canyon. Ugh!! Can't believe I missed it both times :(
Well, there you have it. Seven things you may or may not have known (or even cared to know) about little ole me! Now the hardest part of the game --- tagging someone else to play along.
Here goes - first I will tag a few of my Jersey peeps:
Rob Rauf - Laura Giannotta - Jim Albano - Lisa Friedman
Next I'll tag some of my fantasy football peeps:
Danny Thornton - Rich Dansereau - Renee Burrows
Hope y'all can play along! No biggie if you can't. Just have fun with it :) (thanks)
Later.
I wasn't born here - but Aiken sure feels like home. Come see for yourself! What are you waiting for??
Kara Casamassina, Broker In Charge
International Property Management Group, LLC
Downtown Aiken SC.
Thanks for stopping by - come back again! 
Give me a call if I can be of any assistance with your Aiken area property search.
---------------------
I wasn't born here but Aiken feels like home. Come see for yourself!  
What are you waiting for?!!
Give us a call when you're ready to call Aiken home, too!
International Property Management Group, LLC
Aiken SC. 29801.
803.648.8831